Riding an ATV is a great way to experience the thrill of blazing down a trail or ripping a track.
ATV riding, while fun, can also be dangerous. You might think that riding an ATV is as easy as driving a car – don't be fooled!
When preparing for your first ATV trail ride, these pointers that can come in handy, especially for beginners like you:
Choose the correct ATV for your skill level
If you want to get maximum enjoyment out of your ATV, it's best to purchase or rent an ATV based on your age and experience.
Now, what's the right ATV for beginners?
For your first ride, choose an entry-level quad with a 125 to 250cc engine. This has a top speed of up to 40 MPH, and just enough power to push your limits with getting hurt.
Here's a complete guide:
Up to 70cc – for children 11 years old and under
70cc to 90cc – for children 12 to 15 years old
125cc to 250cc – for beginner adults and late teens
250cc and up – for intermediate to skilled riders
Inspect your vehicle carefully
No matter how experienced you are, pre-ride inspections are inexcusable. Check your tires for wear and the rims for damage. Check the chain for worn links and make sure it's lubricated enough. Look over your controls and make sure cables and connections are intact.
Pack several essentials
By preparing for the unexpected, you can handle just about any problem that you will encounter on the trail.
In your bag, make sure you have a first aid kit, some spare parts (spark plugs, electrical wire, and tape, extra headlight bulbs), a flashlight, a map of the trail, and a tow rope.
Wear protective clothing
A helmet and a pair of goggles, gloves, and boots will do. But if you're bound for a dirt trail, you might want to wear long pants and a long sleeve shirt.
If you want to enjoy a safe ride, protection is crucial. Remember that there are no seatbelts on an ATV, and flipping over is easier than you might think.
Don't ride alone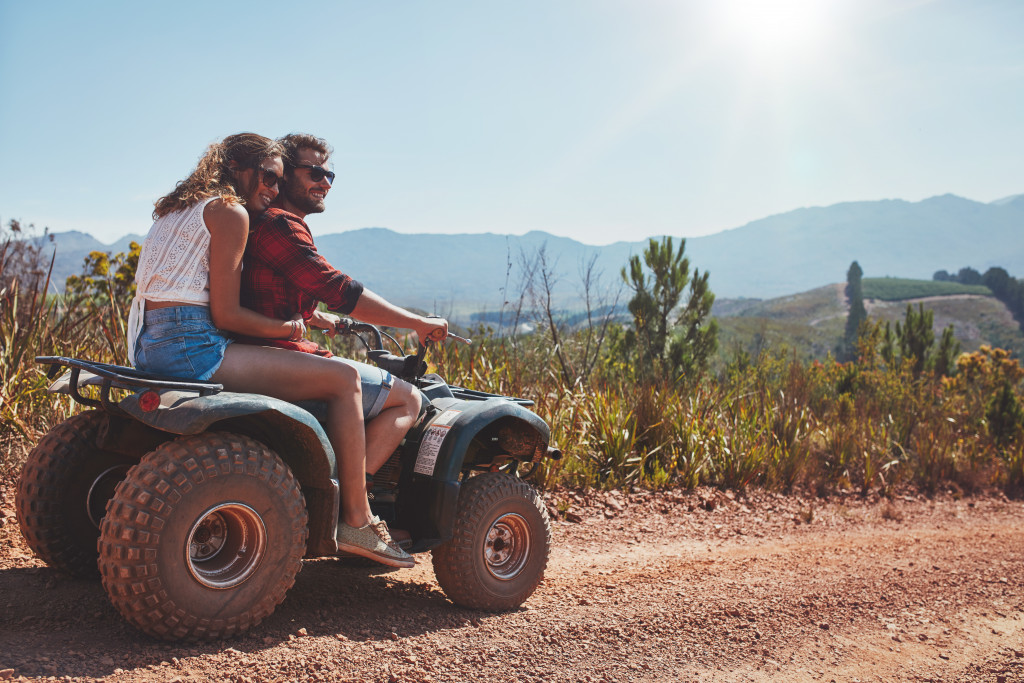 When engaging in any activity where accidents can happen, it's never a good idea to do it alone. More so, it's your first time to ride an ATV.
Getting lost, crashing, or running out of fuel is never fun. Besides, riding is more fun when you have friends with you. Grab some of your buddies and go on an ATV adventure together.
Ride only on designated trails
Don't get in over your head and ride only on designated trails, only where it's legal.
This is not only for your safety but also for your vehicle's. When you're traversing pretty rugged terrains like the Grand Canyon or Zion Park, it's better to stick to designated trails.
No wheelies…for now
Showing off is unnecessary, especially when you're still learning how to drive. Rookie ATV riders performing wheelies almost always result in a disaster.
Don't worry. You'll get to learn (and perfect) wheelies a little later.
Going on an ATV trail ride is one of the best thrilling experiences you could ask for. Don't forget to keep these reminders in mind to make your first ATV journey safe and extra memorable.