If you're going on a ski trip this holiday season, a ski jacket would be the perfect gift for the special man in your life. There are plenty of options to choose from, each with different features that cater to anyone from the average joe to the X-Games champion.
Shopping online is a great way to find sweet deals, especially if you're on a budget. Stores like Pedigree Ski Shop have websites with the latest gear. And brands like Obermeyer have deals on jackets for your man. But before you click on the checkout button, consider the following factors:
Waterproofing and Breathability
Getting snow in your clothes is just irritating, that's why you should get a jacket with a high waterproof rating. The rating is determined by a number given by a water test. Ski jackets' rating usually ranges from 5,000mm to 20,000mm.
You might be tempted to buy a jacket with the highest waterproof rating, but you also need to consider that this affects breathability. The highest rating might give your loved one the best protection from snow, but they'll also be drenched in sweat after a few minutes of skiing. A rating of 10,000 to 15,000 is enough to keep snow and water out while also allowing moisture to escape from within.
The Hood
The most important thing to consider when buying a hood is its ability to fit over your man's helmet. This is crucial in keeping the neck and face warm and dry. Detachability is also a minor factor when choosing a hood. If you'd like them to have a jacket that can look good outside of the slopes, detaching the hood allows the jacket to appear sporty without looking bulky.
Pockets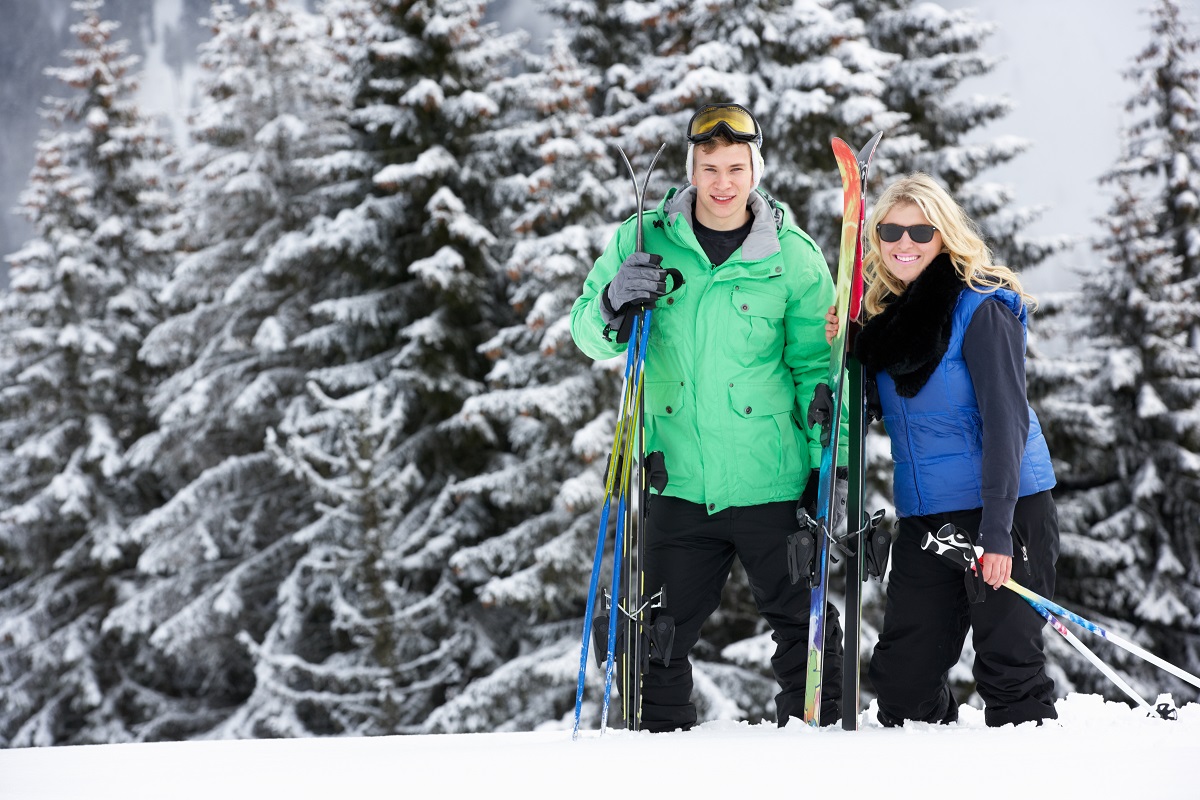 If your loved one plans to spend most of their time on the slopes, they'd need to bring what they can to sustain themselves there. They'd want to bring snacks, their phone, and keys. Choose a jacket that has specialized pockets, like a phone pouch with special room to thread their earphones through.
The Powder Skirt
A loose jacket can allow snow to get to your man's back or into their pants while skiing, a problem that can be solved with a powder skirt. A powder skirt is a strap attached to the jacket that is meant to snugly wrap around their waist. This secures the jacket to their back, preventing snow from entering from behind.
A Good Fit
Finding a good fit is difficult to gauge when buying a jacket as a gift, especially when you're shopping online. If you're going to a physical store, secretly borrow your loved one's jacket to compare sizes. You should also consider whether they'll use the jacket for other purposes as well. If you want them to use it in other activities that need a range of movement like hiking, get a jacket that fits a size larger.
The ski jacket doesn't just provide warmth, it protects your partner from the harsh winds and snow on the mountains. A good balance of waterproofing and breathability will make sure they're comfortable on and off the ski slope. Keep them warm and safe with a hood that covers their head and neck, and a powder skirt that prevents snow from getting into their clothes. Give them a jacket that's versatile with pockets optimized for their every need on the trail. And make sure that the fit flatters their physique and their movements. If you don't get things exactly right, don't fret. They'll still feel your embrace through the jacket when they're blazing through the trail.